Tobias Robinson – "Coach T"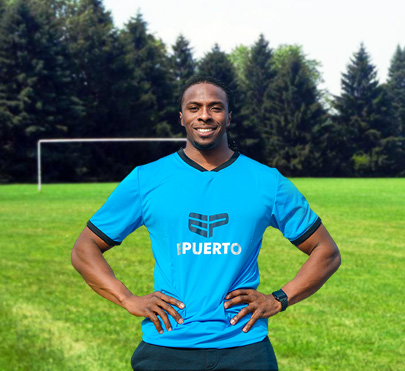 Tobias Robinson, affectionately known as "Coach T" has been passionate about sports his entire life. His dedication to football led to a scholarship at Indiana University (Pa.) where he had a successful collegiate career being named one of the nation's top running backs and joining an elite list of names on in the school record books for yards rushed in a single season and led the conference in rushing. After graduating with a degree in Physical Education and Sports Management, Tobias went on to play professional football in the IFL for the Colorado Ice.
As a working-class kid growing up in rural Pennsylvania, it was often difficult and expensive to find knowledgeable coaches to facilitate his growth and development as an athlete. When Coach T moved to our community, he saw a new generation of younger athletes experiencing the same situation, which inspired him to form the Epuerto Agility and Speed Camps. With new cutting-edge equipment, Coach T, will offer affordable low-cost youth training programs with a focus on agility, speed, flexibility, strength and conditioning, and injury prevention. As his main goal is to provide top-notch coaching to as many kids as possible, scholarships will be available for camps. Coach T has always believed in the philosophy that coaching is a privilege and challenges himself to provide the athletes he works with the latest techniques, fundamentals, and education to help them achieve individual goals and unlock their full potential.
In addition to Epuerto Agility and Speed Camps, Tobias currently works as a college physical education teacher and assistant track coach. His professionalism, motivation, strong ethics, and commitment to good sportsmanship are a great fit for Epuerto Sports and the community and we are excited to have him on board!